The complete guide.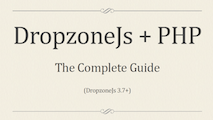 We produced this book to help you build a powerful DropzoneJS powered file uploader. A complete guide to getting DropzoneJS to work with PHP. No more blind search and find all answers related to PHP and DropzoneJS in our book.
Which package should I buy?
That really depends on your budget. If you are feeling lazy and want somebody to solve the problem for you then I highly recommend the Gold package. We will make sure your DropzoneJS works perfectly with your PHP code.
We didn't answer your question?
If you still have questions, please get in touch and we will do my best to answer them. You can reach us at xu[at]startutorial.com.